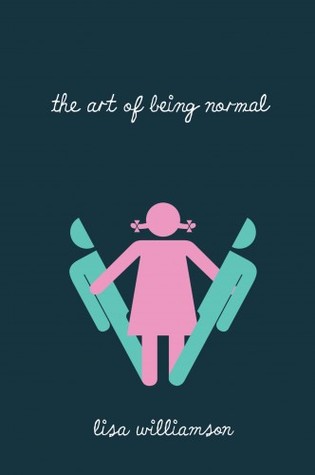 Title: The Art of Being Normal
Series: Standalone
Author: Lisa Williamson
Genre: YA, Contemporary, Realistic Fiction, LBGTQA
How I got it: I bought it
SYNOPSIS:
Two boys. Two secrets.
David Piper has always been an outsider. His parents think he's gay. The school bully thinks he's a freak. Only his two best friends know the real truth – David wants to be a girl.
On the first day at his new school Leo Denton has one goal – to be invisible. Attracting the attention of the most beautiful girl in year eleven is definitely not part of that plan.
When Leo stands up for David in a fight, an unlikely friendship forms. But things are about to get messy. Because at Eden Park School secrets have a funny habit of not staying secret for long…

REVIEW:
I didn't really know what this book was about when I bought it because I didn't pay attention to the book jacket? And then I read the blurb and I was like OH MY GOD, this is the first ever trans-centered book that I've acquired! At first I was hesitant to read it because I wasn't sure if I'm ready. I don't actually read LGBTQA-centered books unless they're highly recommended by my friends and favorite book bloggers, because I don't want to be disappointed if it turns out to be not so good. I've had terrible experiences with books tackling controversial and sensitive topics before, and I don't want any repeat of that.
However, I decided to take a risk with The Art of Being Normal. My first impression was that it's very British. The author is clearly from the U.K. and is familiar with U.K. high school politics, which I don't see enough of in YA. The language and humor is very English as well, which I've enjoyed a lot! It's interesting to read the dialogue because I've been so used to American authors, so I found the change refreshing.
The book opens by introducing us David, a boy who feels like he's not quite in the right body. He wants to be a girl, and he believes that he already is in all respects aside from his physicality. Then we meet Leo, a boy who just moved to a new school and is quite eager to stay under the radar. Only he can't, because new kids tend to get noticed as per always, and the fact that wild rumors of why he transferred are escalating around school made it harder for him to be invisible.
I really, really enjoyed The Art of Being Normal. The story is so cute and David in particular is such a precious character. He's like a puppy, all sweet and adorable and loyal. Leo was a bit of a mystery to me until slowly, the author unveiled his story, and then his moodiness and anger-issues became a bit understandable. The supporting characters were very vividly painted as well, which is always important to me when it comes to books. I liked Alicia even though she annoyed me after a while, but most importantly I commend the parents in this book. I may have teared up once or twice because of them, and I think how parenting is portrayed in this novel is so, so important.
The best thing about this book is how it's not pretentious. Being transgender is terribly tough especially with how society is today, and we can only hope for it to get easier though the truth is, it probably won't. This book says as much. You may have friends, family who accept you, but when you go out there in the world, you will still encounter a lot of resistance and criticism. I like how this book didn't sugarcoat any of that. I also like that there wasn't any forced romances in this book at all, even though I feared at some point that there would be. The author stuck to what's important in the story, and though the dialogue is cheesy sometimes, it's a flaw that I could easily overlook.
Overall, I really liked reading novel. It has some very strong moments which really moved me to feel certain ways. This is a very strong debut for Lisa Williamson and a really perfect introduction to trans-centered literature for me. It's kind of a feel-good read, to be honest, which makes me think it would be a really good Disney movie because it discusses a relevant issue in a way that's gentle and relatable, and not at all preachy or condescending.
RECOMMENDATION:
I think that everyone looking to read LGBTQA-centered books can do well to start with this one. It should be included in the starter pack, if there's any. Sure, there are more books out there which are probably more politically inclined or what not, but Lisa Williamson's approach in The Art of Being Normal is not to be dismissed. For those who don't understand or who has vague interpretations at best of what it's like to be transgendered, I highly recommend you read this one. I learned a lot in a level that's probably more intimate than just doing plain old research.
RATING: